Something for everyone…. Classes, prayer meetings, discipleship and Bible studies
We believe that getting involved is where real, life-enriching relationships can form and develop. We have groups that meet at all different times to accommodate all different schedules. These groups, listed below, offer great opportunity to get connected with people while participating in an engaging, in-depth study.
When you know and understand God's Word, you are more likely to obey the Lord. The Bible knowledge gained in these groups or classes, helps you become more proficient in using the Bible, God's Word. These groups also provide a place to belong. You become known, personally recognized and transparency is more likely to occur. You can share needs and concerns in your life. As you participate in class discussions, you become connected, and build meaningful relationships. We also offer Sunday School on Sunday mornings at 9:30 am, Worship and Study on Sunday Evenings at 5:30 pm, and Wednesday Nights at 6:30 pm.
GET CONNECTED AND GROW
Have questions or need more information? Fill out the Contact Form on the right or send us an email: delaneychurch@gmail.com.
For everyone – Anytime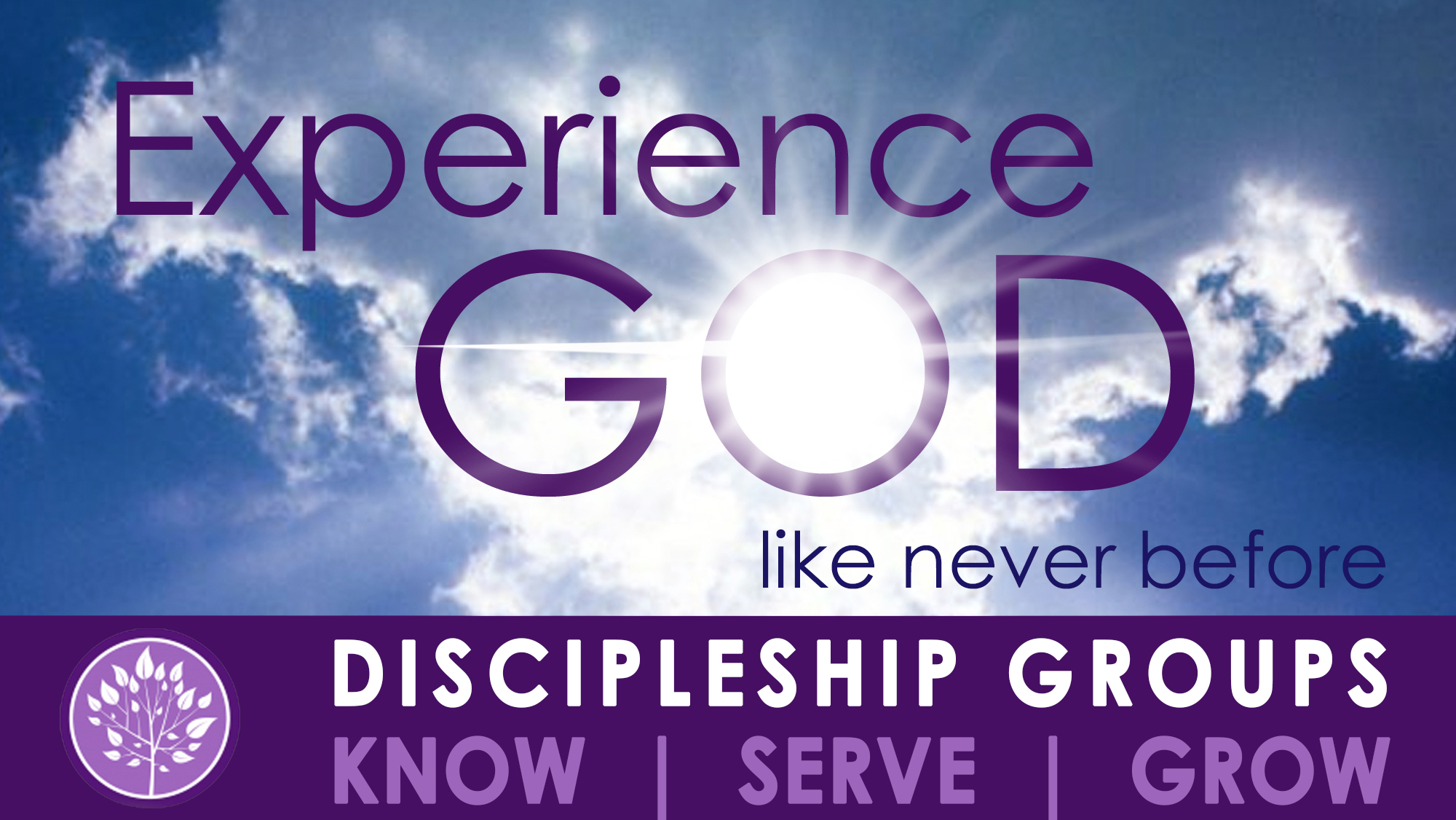 Join or start a DISCIPLESHIP GROUP – Our goal is that everyone in our church family is either discipling someone or being discipled. Disciple groups help grow a closer relationship with God, and firmly establish faith. If you are interested in being discipled, or if you would like to pour your life into someone by discipling them, let us know. We can help with training and connecting. For more details, visit our Discipleship Page. Disciple handbooks are available in the church office or download by clicking on this link: Disciple Handbook 2017.
For everyone – every Sunday at 3 pm

FAITH IN ACTION – A weekly visitation program designed to share the Gospel, using the tools learned in programs like Faith Evangelism, Roman Road and Evangelism Explosion. We provide "on the job training" to enable you to share your faith! Have you ever wanted to share your faith but were afraid to because you didn't know what to say, or how to say it? Do you desire to build up the nerve to share the good news of salvation with people? Do you want to obey Christ's command (yes, command, not suggestion) to "go and make disciples"? If so, then Faith In Action is for you! This is Delaney's weekly visitation program. We meet in the Prayer Room – C110 on Sundays at 3 pm. You will be paired with someone experienced in sharing the Gospel. You won't have to say a word if you don't feel comfortable yet, they can do all of the talking! You can just smile, pray silently, and watch the experienced leader share. You will learn by watching and hearing. Give it a try, you will be blessed!
For Kids – every Sunday at 5 pm

AWANA CLUBS – Every Sunday evening, join us for AWANA during the School year. This is a great way for children 3 years through 6th grade, to learn about God and have so much fun at the same time! Check-in is at 4:55 pm in the Church Courtyard. AWANA will start at 5 pm in the Sanctuary, and ends at 7pm in the Clubbers Rooms. You are welcome to invite your friends to join you. For more information, click here.
For Everyone – first Monday of the Month at 10 am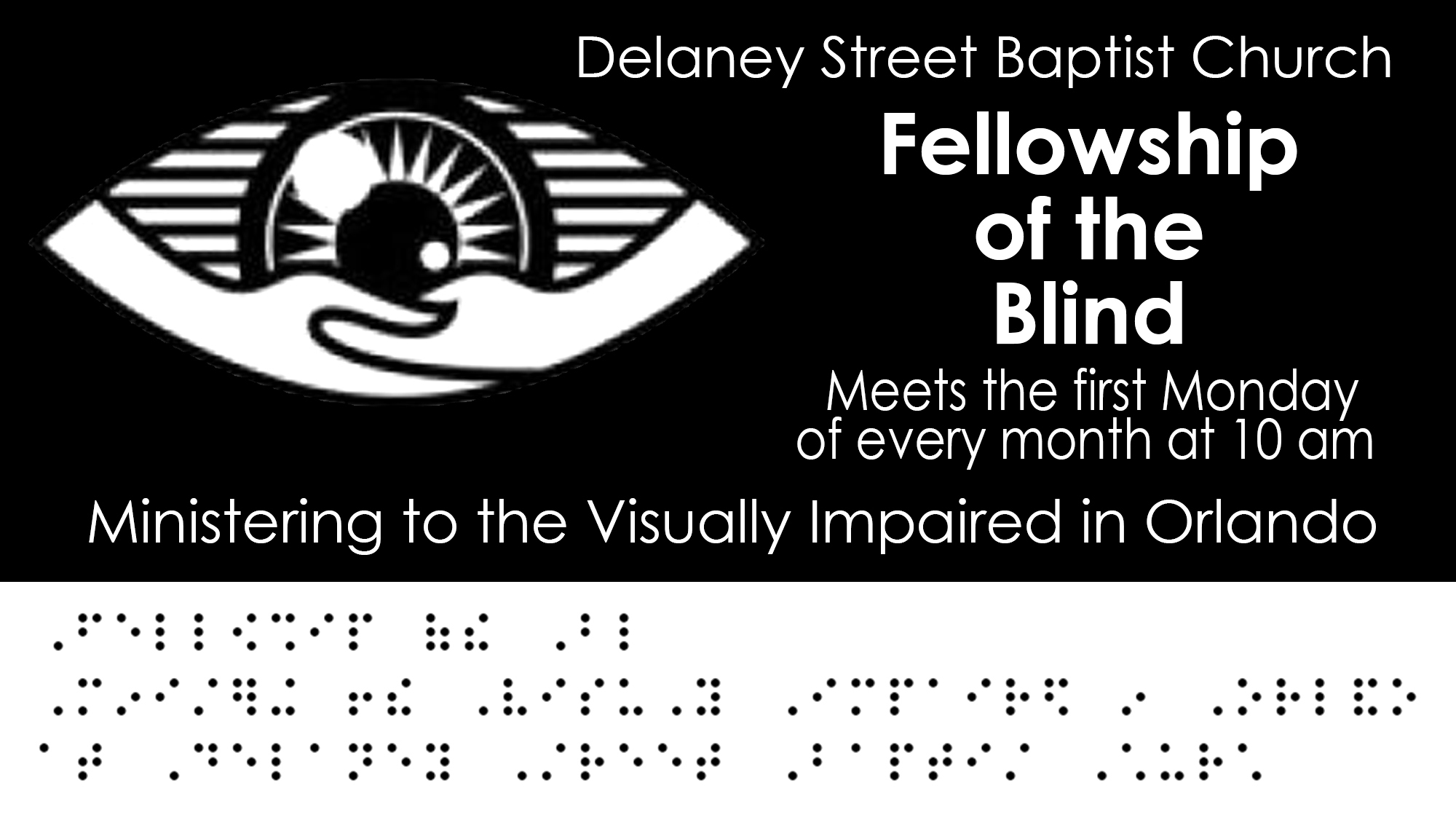 VISUALLY IMPAIRED SUPPORT GROUP – The Fellowship of the Blind meet once a month for those who are Blind or Visually Impaired. This is a Ministry to offer support, resources and Information to minister to the physical and spiritual needs of the vision impaired. We also seek to inspire, through worship and relationship building, and the sharing of the Gospel. If you are visually impaired or want to support those who are, join us. For more details, call the church office.
For Women – every Monday at 7 pm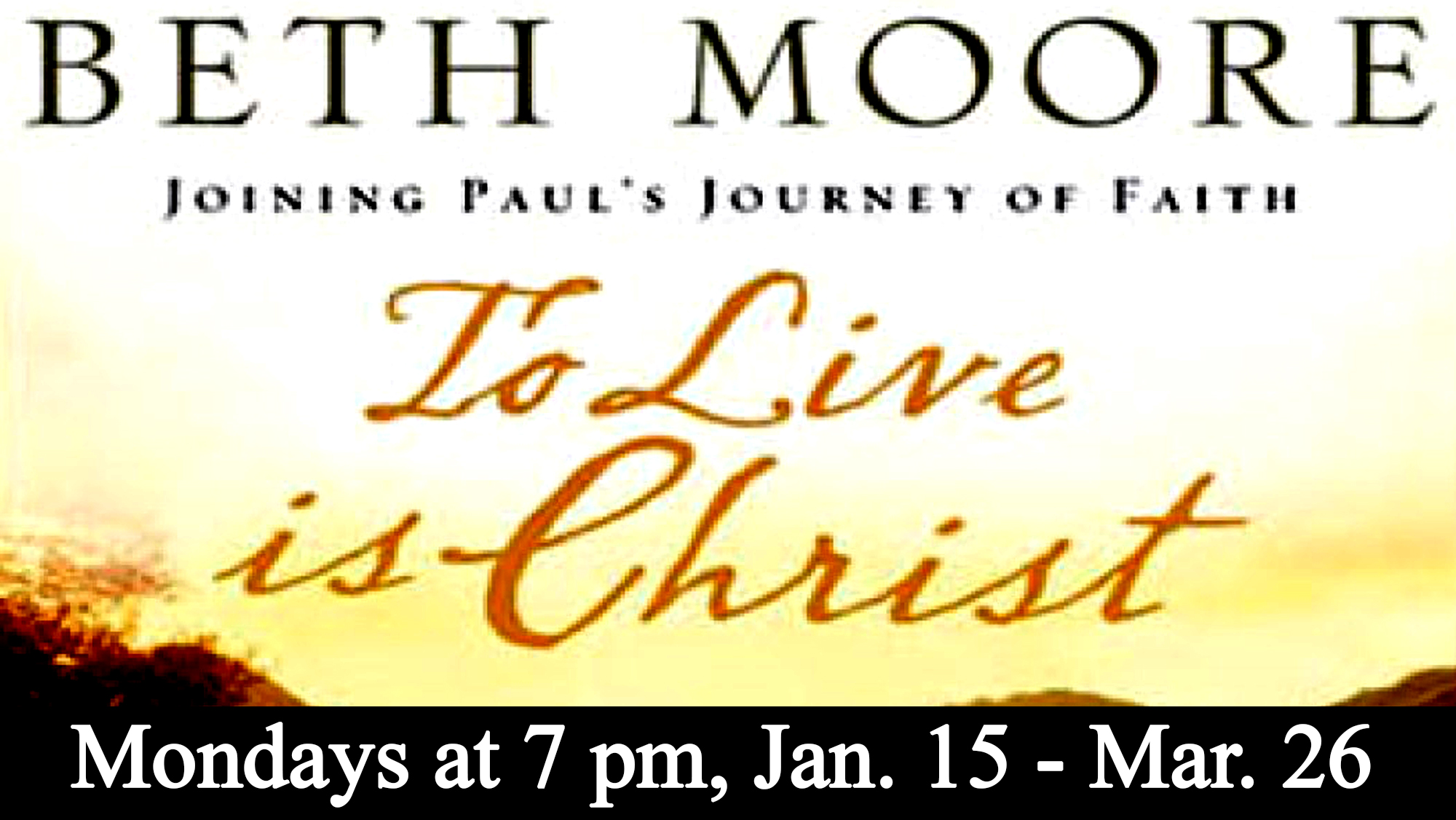 LADIES BIBLE STUDY – Join us as we explore To Live is Christ: The Life and Ministry of Paul. This is an 11-week video and book study by Beth Moore. The workbook $16, is recommended but not required. This class runs January 15th through March 26th, meeting at 7 pm in Room D101. More than any other person, Paul provides us an example of sold-out servanthood. He understood what it means to die daily, crucified with Jesus Christ. As a result, Paul shows us how to live fully as a bond servant to Christ. As you study the Book of Acts and the Letters of Paul, you will come to know the characters personally. Most of all you will feel the challenge to follow Paul's example just as he followed the example of Christ. To sign up, call or drop by the church office or library. This is a great study… don't miss it!
For everyone – every Wednesday at 10 am

PRAYER GATHERING – This prayer gathering is a time to pray with a group or on your own, walking and praying or pray wherever on our campus that you would feel comfortable. Join us in the Prayer Room, C110! God is stirring us to gather together, praying for each other, our city, the church, our neighbors, and glorifying God. Everyone (all ages) is invited to attend.
For Young Adults (18+) – every Wednesday at 6:30 pm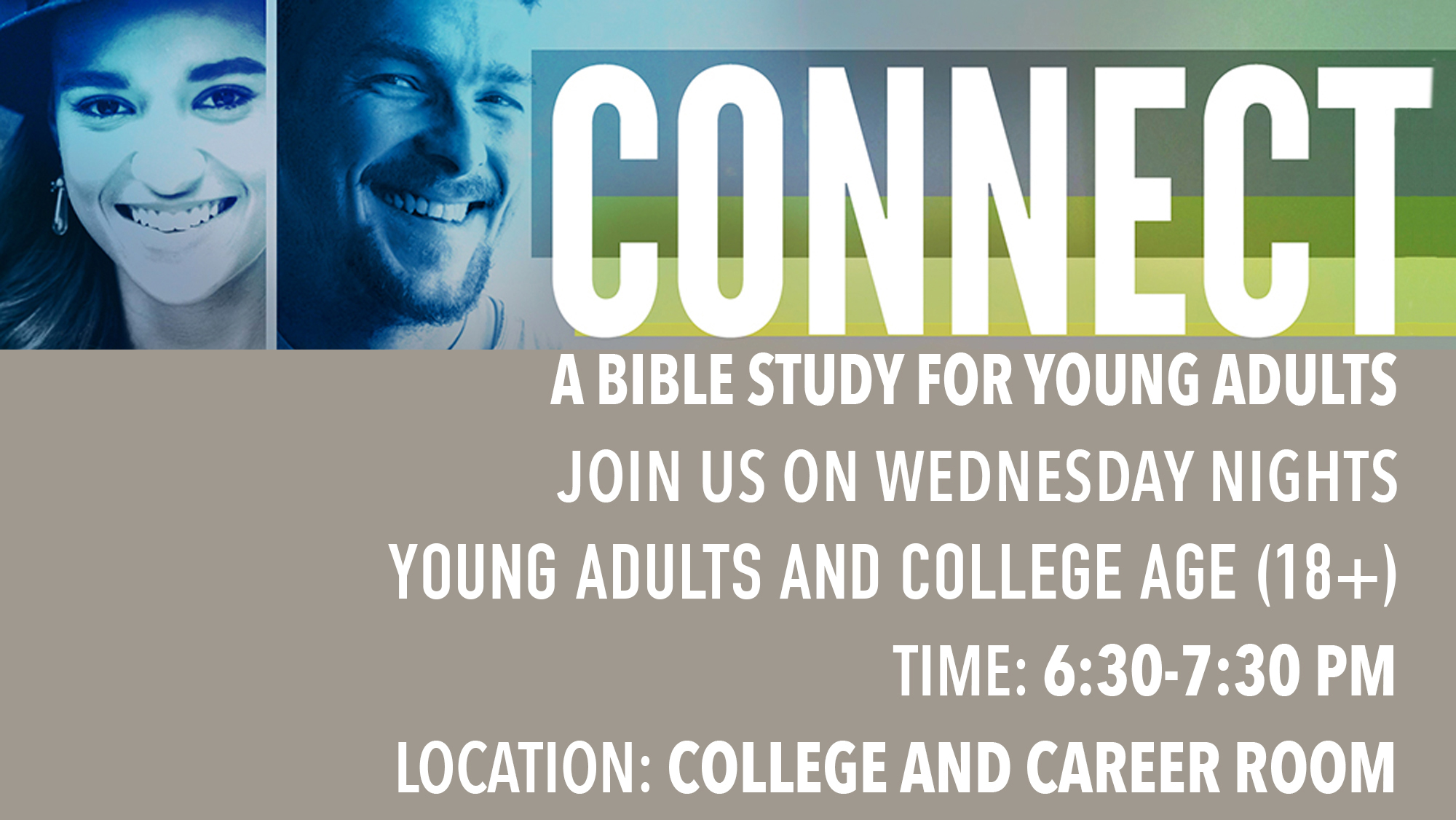 CONNECT BIBLE STUDY – Join us on Wednesday nights for this young adult bible study for men and women. CONNECT is for college students and young adults age 18-39. It meets in the Christian Family Life Center, upstairs in the College and Career room! Childcare is provided.
For Kids age 5 through 5th Grade – every Wednesday at 6:30 pm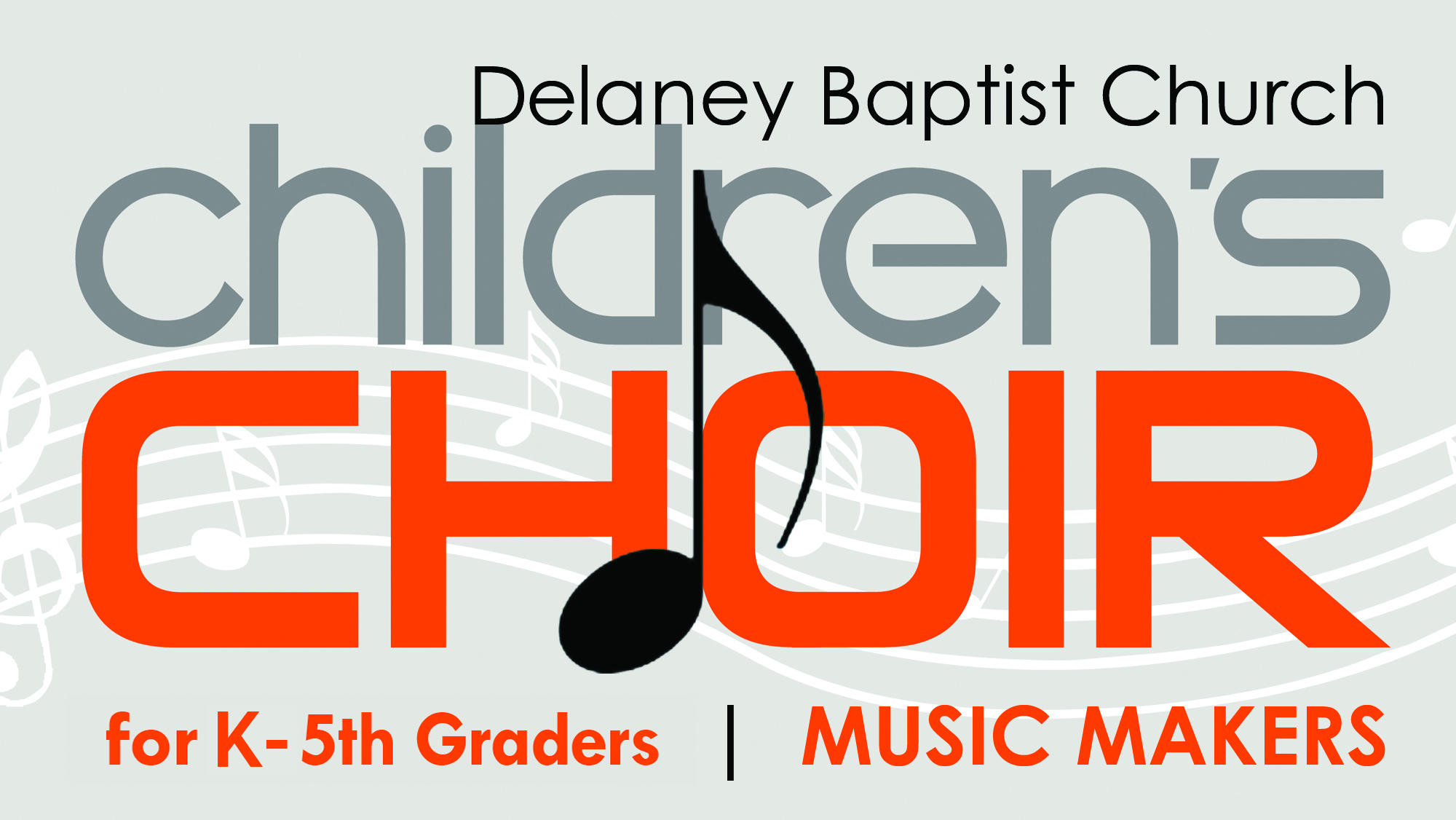 CHILDREN'S CHOIR – Do you have a K through 5th grader that loves music? If so, we encourage you to have them join our Music Makers Children's Choir. Each Wednesday night we meet in Room B204 for singing, playing musical instruments, prayer and refreshments. This instills a love of music in a safe, nurturing, inclusive and Christ-centered environment, where kids have fun while learning and growing in the Lord! Childcare is available for younger children.
For everyone – every Thursday at 9:30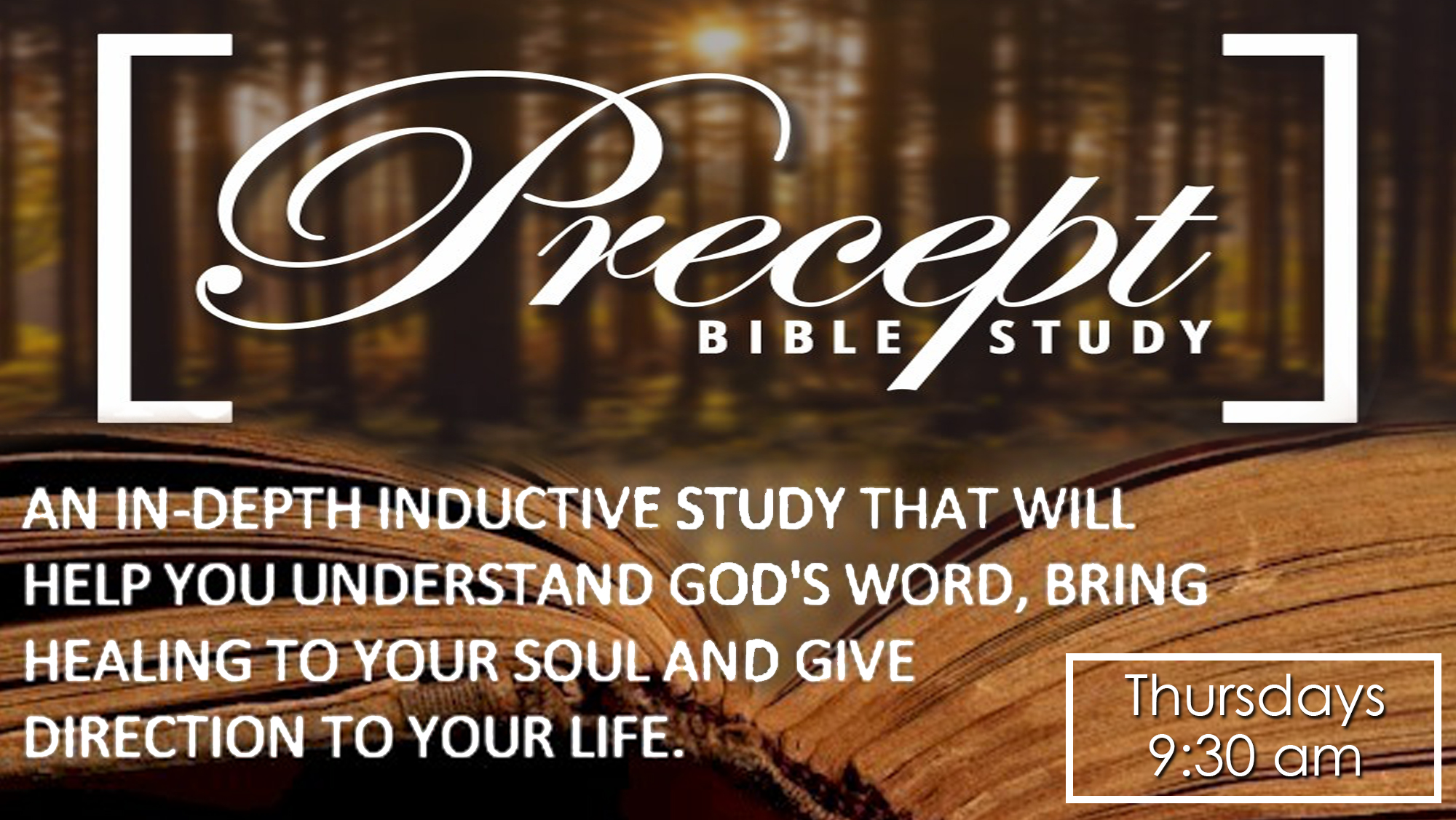 PRECEPT BIBLE STUDY – Immerse yourself in God's Word with others who are passionate for knowing God at Precept Upon Precept Bible Study. Come for all or part of the class. Discussion is at 9:30 am, Video is at 11 am, and we end at noon. The Precept Upon Precept study method is widely acclaimed for it's practical & personal approach to Bible study. If you would like to know more about this ministry, please visit the Precept International Homepage. If you would like more information on the current study, meeting here at Delaney, or have any questions in general please contact our instructor Donna Casey at epignosis@cfl.rr.com. Click here for the current class schedule.
For everyone – every Saturday at 9 am

PRAYER MEETING – Plug into the power of prayer! Are you a prayer warrior? Do you need prayer or have something on your heart that you want prayed for? Join us for this wonderful group prayer! Every week we have a different Prayer Focus. Everyone is welcome and encouraged to attend! You will be blessed and you will be a blessing!