WELCOME! We have Three Worship Services every week and invite you to join us:
Sunday Morning at 11 am
Sunday Evening at 5:30 pm
Wednesday Evening at 6:30 pm
Here, you will find friendly people, great worship music, and a welcoming environment! Nursery and Preschool is provided during all services.
Sunday Morning Worship // 11 am
The Sunday Morning Worship Service is the highlight of our church week. The messages center around biblical preaching which can strengthen your faith, encourage you in times of trouble, and convict you from turning away from God. The music is content-driven and energetic, combining Christian adult contemporary with great hymns of history for a uniquely blended worship style. This service is held in the Sanctuary. Once a quarter we celebrate the Lord's Supper.
CURRENT SERIES – From now through Easter, Pastor Troy is taking us on a journey through the Gospel of Mark with a focus on SERVANTHOOD. Mark emphasizes two important characteristics of Jesus Christ: 1- His authority as the Son of God, and  2- His compassionate service to people (particularly in miracles). As you read Mark, you'll see the word "immediately" repeated often: Mark is a quick, urgent, bold message about who Jesus is and what He did. Every passage in Mark, every miracle, every conversation, every deed, points back to Jesus' authority as the Son of God. "For even the Son of Man did not come to be served, but to serve, and to give His life a ransom for many." (Mk 10:45)

Sunday Evening Bible Study // 5:30 pm
Our evening service focuses on digging deeper into the morning message. Sunday evening is a more intimate time with a comfortable, family feel. Join us in Room D103 as we explore the message in a more in-depth, interactive way.
Wednesday Evening // 6:30 pm
Come "Worship on Wednesday" at our mid-week service that includes a Bible Study and a Prayer Meeting for Adults.
CURRENT STUDY: "The Prophetical Books in Chronological Order" is a study of Joel through Malachi. The prophets predicted future events and also proclaimed God's Word. They rebuked outward ritualism, confronted sin and were called on in time of crisis. Join us on Wednesday nights as Pastor Troy teaches us about the Prophets of Israel!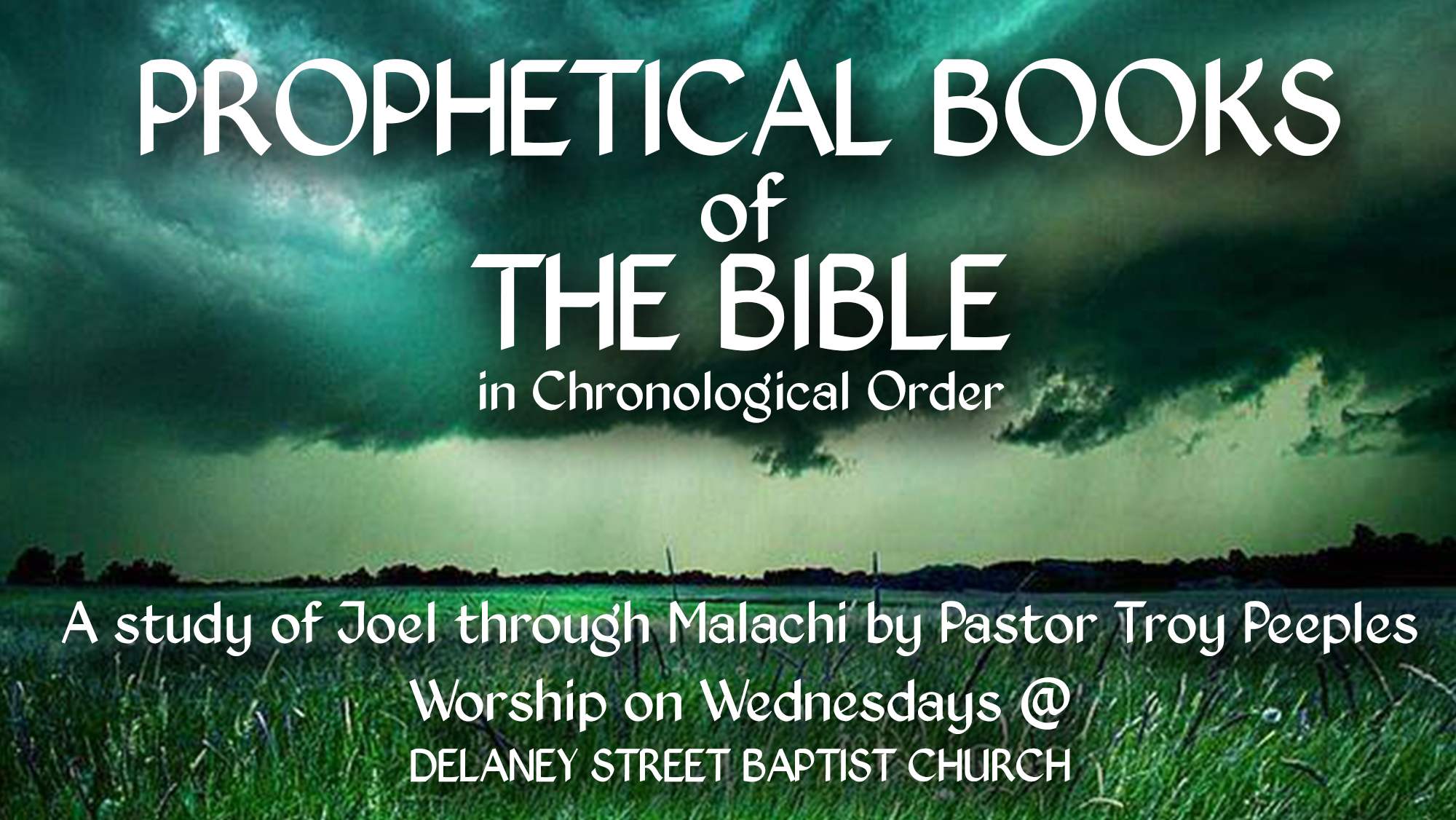 Also at 6:30 pm on Wednesday's,
For Middle and High School STUDENTS we have a Worship Gathering in the Upper Room. This is a combination of powerful student-led worship as well as messages geared towards bringing hope and direction to every teenager through the Word of God.
YOUNG ADULTS meet in the Connect Bible Study.
CHILDREN meet during this time for our Children's Choir during the school year; during the Summer we have a program for this age group called "Fun in the Son."
What to Wear
Many people ask about what to wear. You'll find a little bit of everything here: golf shirts and slacks, jeans and tennis shoes, dresses, suits, etc. The fact is we don't have a dress code – just try to be comfortable and modest. We are a multi-generational church, meaning we have members from preschoolers on up to senior adults and hundreds of people in the middle.
There is truly something for everyone here, so please check out our ministry pages to get connected and find out more.

Student Led Worship
Our Delaney Youth Band is made up of middle and high school students that love the Lord. Through praise and worship. they have a powerful impact on how people connect with God. When they lead worship, it sets a model for their peers and it gives them a piece of ownership in the ministry. On March 11th, our students will be leading during the Morning Worship Service.

Worship Preview
We want you to have every opportunity to prepare yourself for worship. Each Sunday, the worship team rehearses the songs for Worship at 9 am. If you would like to listen to them ahead of time so you can prepare your heart for worship before participating in the service, then drop by for Worship Preview in the Sanctuary! We hope it will enhance your experience and provide enrichment to your worship!
SPECIAL SERVICES
EASTER and HOLY WEEK SERVICES
We invite you for a time of worship and reflection as we continue to remember and reflect on what Christ has done on Calvary's Cross through His sacrifice, atonement, and resurrection. Our Holy Week, also known as Passion Week Services and events are listed below. We would be honored to have you, your neighbors, family, and friends join us. This is an invitation to look at Christ Himself and what He accomplished on the Cross!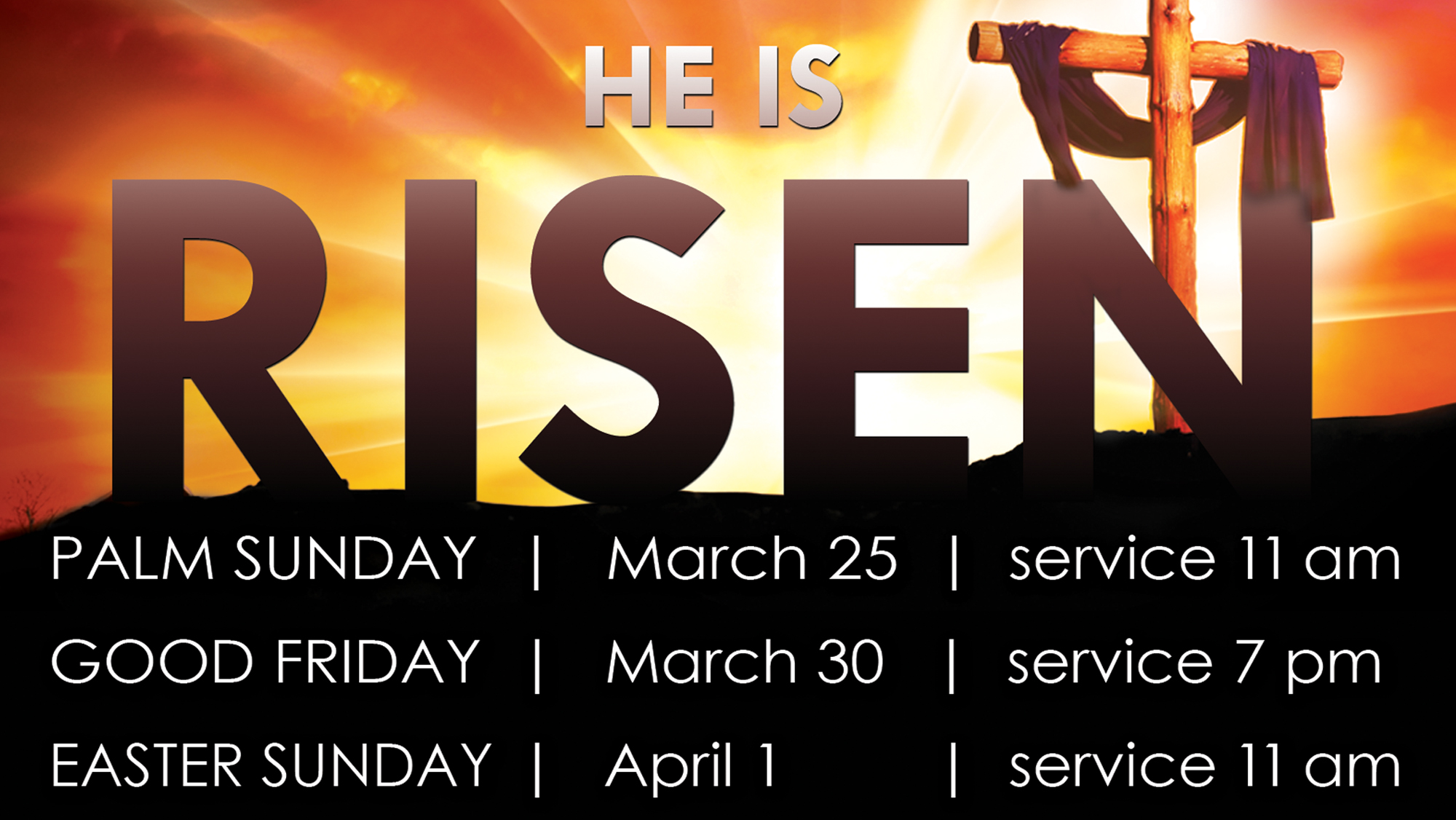 SUNDAY, March 25 at 11 am / PALM SUNDAY
This Easter, realign your heart with the creator. Jesus made a sacrifice for each of us, as He gave His life on the cross so that we may have eternal salvation. Holy week begins with the Palm Sunday Service. We will celebrate The Lord's Supper during this service.
FRIDAY, March 30 at 7 pm / GOOD FRIDAY
On Good Friday, we'll have a special service designed to focus our hearts and minds on the true meaning of Easter and on the Lord's great love and sacrifice for us. Our music Friday Night will be an invitation to look at the cross. There certainly is sadness and even heartbreak for those of us who understand the agonies of our Savior on the cross. But Good Friday is more than an invitation to sympathy. It's more than an invitation to view the past. Good Friday is an invitation to salvation. It's the day HOPE began!
SUNDAY, April 1 at 11 am / EASTER SUNDAY
Join us to celebrate the Savior and the greater life that is promised to us through having a direct relationship with our Creator! Join us to celebrate the Resurrection. Extend a personal invitation to your friends, neighbors, co-workers, classmates, and family, to show them why Easter is worth celebrating! Invitation cards are available at all Worship Services and in the church office.
Before our Easter Sunday service, we will have a "Flowering of the Cross". This is an especially striking and beautiful way to symbolize the new life that emerges from the death of Good Friday. Bring flowers with you Easter morning to hang on our outdoor cross as a symbol to honor a loved one or to present your prayers and lay them at the cross. Photo opportunities will be available after service.