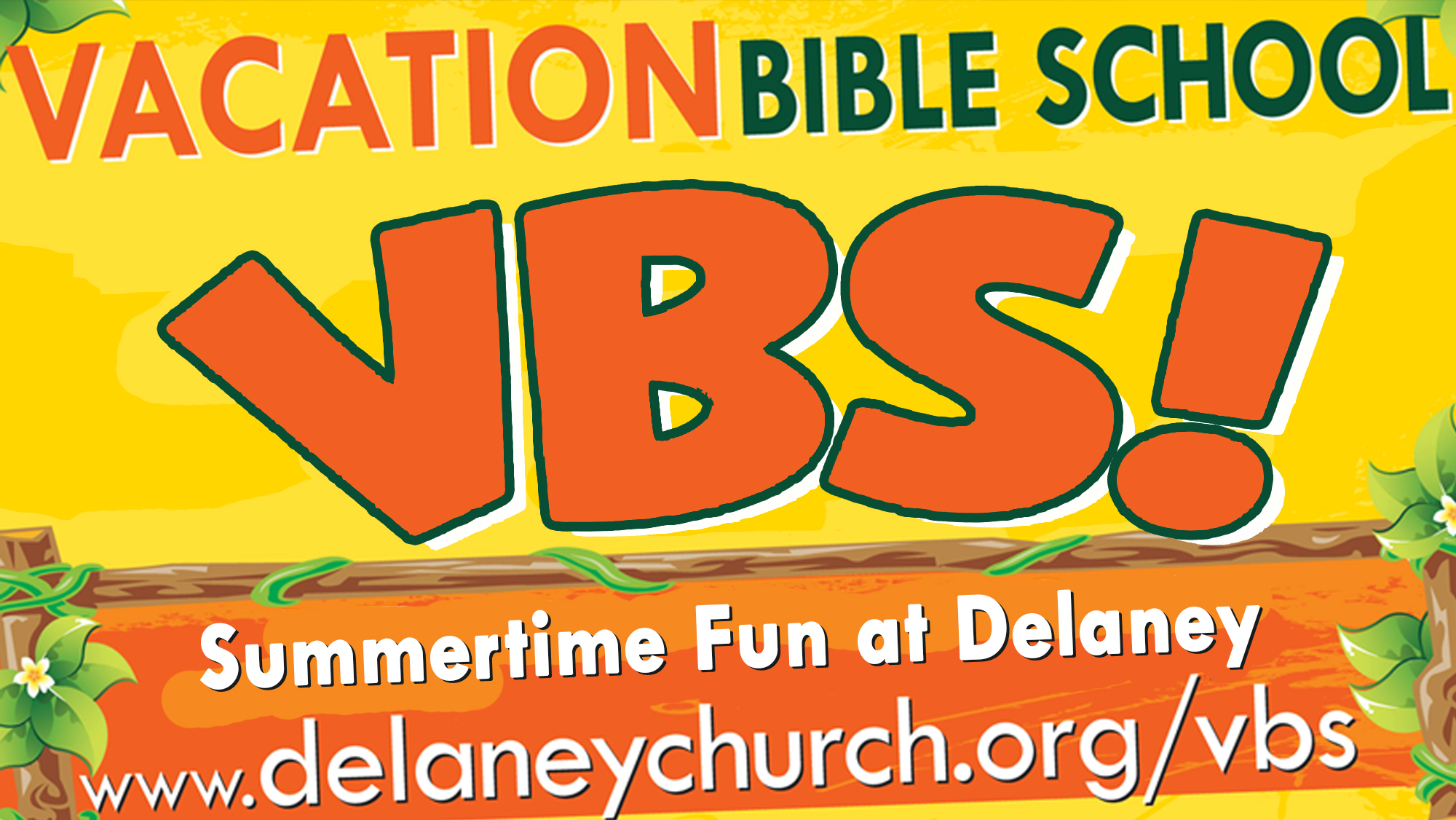 Vacation Bible School at Delaney Street Baptist Church

VBS is for completed K4-5th Graders and it's FREE!
June 18th – 22nd, 2018 (Monday – Friday)
9 am – 12:30 pm
This Registration link is for both Participants and Volunteers.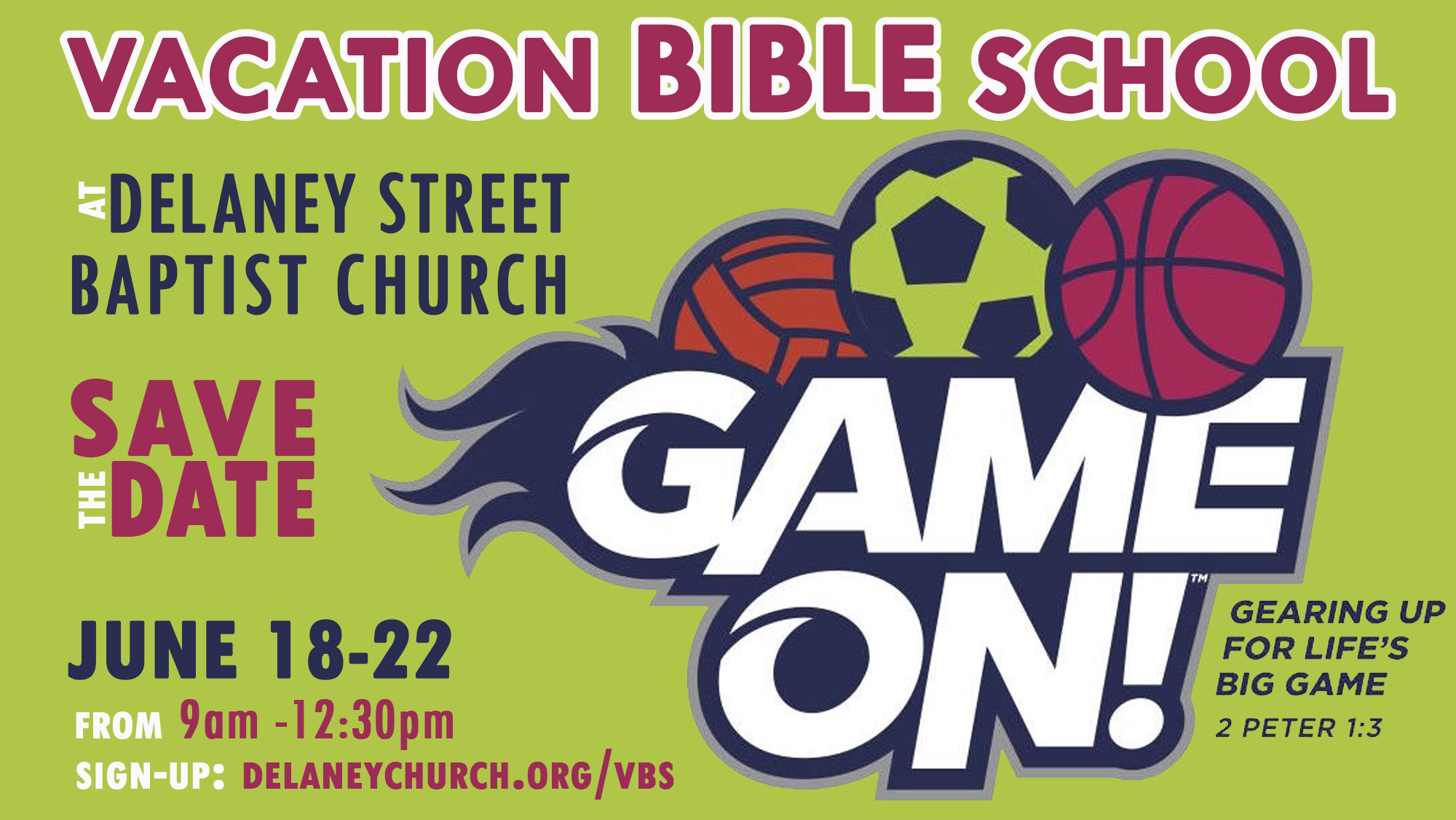 Delaney's 2018 VBS invites your kids to grab their megaphones, lace up their cleats, and tune up their instruments. As they fill up the offensive line, sideline, and drumline, your players, cheerleaders, and band members will realize God has given them His ultimate playbook. He wants them to join His team, train hard, celebrate salvation, and encourage one another. Get in the spirit today with Game On! VBS.
Each day kids will experience amazing and wonderful adventures, as well as make crafts, play fun games, enjoy tasty snacks, sing cool songs, and learn about missions. Kids will discover that the God who created everything there is—wants a relationship with them!
The Game Plan
Theme Verse
His divine power has given us everything required for life and godliness through the knowledge of him who called us by his own glory and goodness. 2 Peter 1:3
Motto
Gear up!
Get ready!
Game On!
Daily Content
Day 1: Jesus Cares About Me

Day 2: Jesus Gives Me Hope

Day 3: Jesus Helps Me Believe

Day 4: Jesus Loves Me

Day 5: Jesus Gives Me Joy
We will have FAMILY FUN NIGHT at the end of our VBS Week on Friday from 6-8 pm in the Gym! This is for our VBS'ers and their families!
We are in need of donations of food items for our volunteers and participants. We also need craft items, decorating items and items for our Friday Night Celebration. If you are able to provide help in any way, we thank you!
Click on this link for a sample list of donations we needed last year. Monetary Donations can be accepted as well, to purchase these items. Thank you in advance for helping further God's Kingdom with your donations!
Thank You to all of our generous contributors from last year! If you would like to contribute, please contact Andrea in the church office at 407-422-0758. We are in need of donations of supplies for VBS. Click here for a list of snack and craft items we are in need of. Thank You!
Here at Delaney, Summer is the one of the most exciting times of the year! This is the season for celebrating fun and fellowship as our kids fill their summer with engaging ways to learn more about Jesus Christ and His love for us. We are so excited for all that God is doing in our Delaney Kids Ministry, and this year will be another chance for your child to experience Vacation Bible School right here at Delaney Street Baptist Church, Orlando FL.
VBS is a great opportunity for kids to grow in their knowledge of the Lord in the fun environment of a morning, weeklong summer camp. Your child won't want to miss this great summer opportunity, and we want to give you all the details before you register. Below, we've answered some common questions about Vacation Bible School.
Q: When will VBS take place?
A: Monday – Friday, June 18th – 22nd, 2018.
Q: What time is VBS?
A: 9am-12:30pm.
Q: Who can participate in VBS?
A: We invite all children ages 4 years old (who have completed K4) through (completed) 5th grade to attend our Vacation Bible School.
Q: What will the kids' activities at VBS include?
A: Our VBS kids will be involved in a variety of fun and exciting activities that will help them grow in their relationship with the Lord, and have fun doing it. Kids will participate in theater arts, visual arts and crafts, recreational fun, music, missions and even snack time, all while learning about God and His goodness!
Q: How can we serve for VBS?
A: At VBS, we have several ways you can serve.Volunteers will be needed for crew leaders, rotation leaders, and room leaders. Registration to serve is the same link as registering to participate.
Q: How and when can I register
A: To register, visit DelaneyChurch.org/children and click on the VBS Event page.
Make sure you reserve your spot for your kids so they can participate in all the VBS fun! This is just the beginning of summer opportunities for kids, and we can't wait to see where There are more events for your kids later on in the Summer and all year long for Delaney Kids. Stay tuned for more exciting events throughout the year coming your way.
We hope your child can join us for VBS and all of the other fun ways for kids to stay connected at Delaney Orlando this summer!